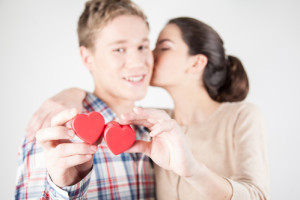 For many couples, Valentine's Day is an obligatory holiday. Whenever February 14th comes around, it's a lot of the same. Flowers? Check. Chocolate? Check. Dinner reservations at a romantic restaurant? Check.
While this may be enjoyable for some, other couples are tired of the same old, predictable Valentine's Day routine. In fact, recent research by Durex shows that 49% of surveyed couples have never looked forward to Valentine's Day and 43% of couples want to cut the clichés and do something different.
With billions of dollars being spent on chocolate, candy, flowers, jewelry, cards, and anything with a heart on it, it's easy to see that the true meaning of Valentine's Day has been lost in a sea of commerciality. Valentine's Day is supposed to be the most romantic day of the year. It's supposed to be a day where couples show their love for one another in unique and thoughtful ways. So instead of falling back on the usual, why not try something new this year?
Here are 3 ideas for couples who want to do something different with their valentine on February 14th. Something that will revive your relationship and bring a little excitement, spontaneity, attraction, and – of course – romance back into the mix!
Do something that you keep talking about doing but have yet to actually do. This happens all the time in long-term relationships. We have all of these great ideas for activities or trips, but never actually do them. For Valentine's Day this year, pick one of the many things you want to do – then do it. Have you been talking about going camping? Find the nearest place to pitch a tent and grab a sleeping bag and the ingredients for s'mores. Do you keep saying the two of you should get a couples' massage? Call a local spa and set up an appointment. The key here is to decide on an activity and follow through with a plan.
Make your partner a gift instead of buying one. When it comes to Valentine's Day gifts, people often go overboard when there's no need. The holidays have just passed and your partner probably already has everything he or she needs. So why not decide, as a couple, to make each other a gift instead of spending money. Doing this encourages you to be creative and think outside the box. Draw a comic about your relationship. Cook something with the food you already have in the house. Make a romantic playlist. Write your partner a love letter. The possibilities are endless!
Do something active. Use Valentine's Day as an opportunity to do something active with your partner. Not only will you feel great after, you'll also have experienced a new adventure together that will bring you closer together. Sign up for a Valentine's Day race. Go for a secluded hike. Take a dance class. Go ice skating. Fly a heart-shaped kite at a park. Do something that gets your heart racing and you'll remember why you fell in love in the first place.
Valentine's Day should give you and your partner the chance to try something new and express your love in a different way. We love our partner every day of the year, so why not do something special this year that you'll be able to remember forever? And maybe you'll create a new Valentine's Day tradition in the process.
If you and your partner are stuck in a Valentine's Day rut and need some help, contact a Delaware relationship counselor today to get your relationship back on track.