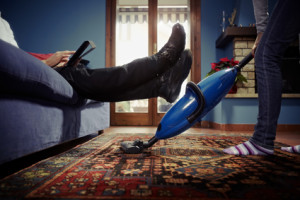 As spring comes to Delaware, the air grows warmer, flowers begin to bloom, and many families embark on spring cleaning projects.
Historically, spring was the best time for dusting because the weather was warm enough to open up windows and doors, and insects and wind were less of a concern. Today, families continue the time-honored tradition by cleaning their homes from top to bottom, getting rid of clutter, and making repairs.
Cleaning, maintenance, and household duties should be a shared responsibility between you and your spouse during spring and throughout the rest of the year. If one partner bears the burden of cleaning, cooking, and household chores, he or she may end up feeling bitter, frustrated, and underappreciated.
To prevent conflict and resentment, you and your partner should work together to devise a plan for sharing household responsibilities that you both feel is fair and feasible. Below are ideas and tips to keep in mind.
Discuss likes and dislikes. Talk about which household duties each of you particularly likes or dislikes, and then assign tasks accordingly. For instance, if your spouse hates doing the dishes and you hate taking out the trash, you could volunteer to take charge of the dishes if he or she promises to cover trash duties.
Keep an open mind. Remember that your partner might have a very different perspective on what needs to be done around the house and who is doing their fair share of the work. Listen to your spouse, keep calm, and be open to ideas and suggestions – even if you disagree.
Avoid accusations. If you accuse your partner of neglecting housework or make bossy demands, your partner may become defensive and resentful. Instead of trying to order your partner around, pose your needs in the form of requests and suggestions.
Praise the good. After finalizing your plan for sharing household responsibilities, make sure to show your appreciation when you notice your spouse following through. If you praise the good things your partner does rather than focusing on their shortfalls, you can make them feel valued and encourage them to continue to help.
Struggling with housework conflicts or other communication issues? Consider talking to a Delaware therapist who can help you "spring clean" your relationship with personalized advice and innovative techniques.