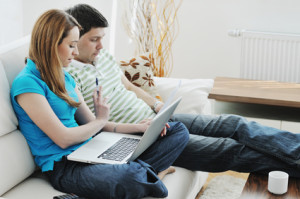 It's never fun to argue with your partner, but quarrels over money can be especially upsetting. For many couples, money doesn't only represent finances—it represents power, responsibility, and security.
One possible solution? Create a budget. And the start of a New Year is a great time to do it.
By working together and openly communicating about your finances, you can plan a budget that saves you money, while avoiding future arguments. Creating a budget can be quick and easy—here's how:
Step One: Determine income. Draw up a list of all your sources of income, including work paychecks, investments, and rental revenue.
Step Two: Calculate expenses. Start by budgeting for the necessary expenses first, such as rent, car payments, and utilities.
Step Three: Set a limit for luxuries. After determining how much you need for necessities, you can figure out how much you can afford to spend on luxuries, such as going out, entertainment, and vacations. This is usually an area where couples struggle. What's important to you may not be to your partner, so keep an open mind and really listen to one another during the process.
Step Four: Create a rainy-day fund. You should set aside money in a special account for emergencies. Feeling prepared can help both of you relax when unexpected expenses come up during the year.
Step Five: Plan for retirement. It's a good idea to start contributing to a retirement fund as early as you can – and discussing what that retirement will look like. You may find you have very different ideas about how to spend your golden years.
Step Six: Commit to the plan. Setting a budget will only help to prevent financial disagreements if you both stick to it. If you're not happy with something, talk it out now rather than planning to ignore the budget or hide expenses. And if you make a mistake during the year, be honest with your partner, and work to be understanding if your partner does the same.
Creating a Time Budget
Money isn't the only thing you can budget. You can apply this same principle to budgeting time as a couple – which is often just as hard to come by as responsibilities and routines take over.
Just as you would when creating a money budget, start by making a list of the amount of time you spend on tasks you must do—such as work, sleep, and eating. Calculate the amount of time that remains for personal tasks, such as spending time with each other, watching TV, and working out. If you have weekly commitments, such as volunteering, classes, or hobbies, account for these, too.
Does your schedule allot some time to connect with each other every day – even if it's just 15 minutes in the morning or before bed? What about regular family time and date nights?
Your budget should help ensure that you have enough time to do the things that matter most to you. If that's not the case, think about what kind of activities you can cut down on or commitments you can drop to make room in your schedule. Maybe instead of watching Netflix for a couple hours every week, you can spend this time to going out to a new restaurant, taking a cooking class, or visiting a Delaware relationship therapist.