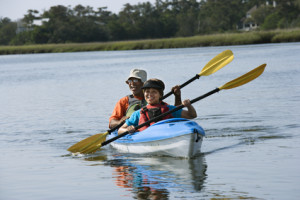 Want to improve your mood, health, and relationship all at once? Then make a commitment to regular summer dates that involve physical activity.
Together, you'll benefit from the release of endorphins, improved mood, and better health. If the activity is outside, even better: time spent outdoors can enhance your mood, improve your attention levels, and strengthen your immune system. (Just make sure to use your sunscreen!)
By doing it together, you're more likely to stick with it. A study from Health Behaviour Research Centre at University College London in England found lifestyle changes – exercise or otherwise – are more successful when couples do it together.
"Perhaps, as they say, 'a problem shared is a problem halved,'" said study co-author Jane Wardle.
So what do you have to lose? Get out and active with your partner today with these 6 summer date ideas from a Delaware Relationship Counselor.
Take a bike ride. Don't already own bikes? Rent some instead! If you find you enjoy it, you can always invest in a bike later. Head to a nearby park together with frequent stops to explore, or use it as your mode of transportation for a lunch date at a restaurant. (Another idea: get a tandem bike for added couples' fun!)
Go on a scenic hike. The slow pace makes it easy to enjoy the exercise while still holding a conversation. Make a commitment to explore a new hiking trail in your area each week. Bring along a healthy picnic lunch to enjoy when you stop for a particularly beautiful vista.
Try partner kayaking. If you're looking for an upper-body workout, this is a great activity, but it isn't an easy one. It will, however, encourage you to get "in sync" literally! You'll have to work together to coordinate your strokes if you want to get anywhere. The accomplishment can help you feel more like a team.
Explore a farmer's market. It's the least intense "workout" on our list, but the right farmer's market can involve fair amounts of walking, get you outdoors, and encourage healthier eating habits. Then bring those fresh meats and veggies home and grill out for dinner together for more time enjoying the summer heat together.
Play a game of golf. Enjoy the challenge of the game together while also relishing in the walks between holes. If you have a competitive nature, consider not keeping score to keep the focus on just spending time together and living in the moment. Or for a less expensive (and maybe less intimidating) option, go miniature golfing instead.
Start a geocaching adventure. This outdoor activity involves looking for "hidden treasure" using GPS, your mobile device, or other navigation to find containers throughout your community. Working as a team to make a "discovery" will bring a sense of surprise and fun to your relationship. You can learn more about this idea on geocaching.com.
Of course, these are just a few ideas! Put your heads together and see what other fun outdoor activities you can come up with. If you're having trouble working together, contact a Delaware Relationship Counselor for help.