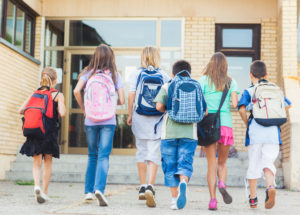 Football season is starting up. The temperature is finally beginning to drop. And your bank account is drained from buying school supplies. Yes, it's that time of year again!
Are you ready for back-to-school season?
Every parent knows the rush of getting your children back into the routine of going to school. Early morning wake-ups, coffee-fueled chauffeuring, and frantically trying to figure out when soccer practice starts.
It's a chaotic transition, especially after your family just enjoyed a fun and wonderful summer at home together. But family bonding doesn't have to stop just because school is starting.
How do you manage to bring that fun of vacation back in the midst of back to school chaos?
Know your schedule.
It's a great idea to plan family bonding days and quick vacations during the school year, but the question is… when? The easiest way to make these days a reality is to know when you are all free.
Keep a family calendar in your kitchen to map out sports, recitals, book clubs, and any other important events. Not only will this help you find free time, it will also prevent you from missing out on any big days in your children's lives.
Set goals.
This is a great time to set goals for the next year. Whether it concerns your child's academics, your family relationships, or the future (getting into college, moving up to a higher level in gymnastics, retirement, and so on), sit down and talk with your family about these goals, so you are all on the same page.
Knowing everyone's goals will allow you to help each other succeed and be a strong support system throughout the year.
Sit down for dinner.
As cheesy as it sounds, studies show that it's extremely beneficial for families to sit down at the dinner table and enjoy the evening meal together. Maneuvering your schedules and duties for family dinner is worth it.
Family dinners elicit more conversation, put your children at a lower risk for dangerous activities, and are far healthier for your children than throwing food at them on-the-go or sticking them in front of the television.
Take care of yourself.
Back to school season is not just stressful for your children – it can also put a strain on your emotional and mental health. Don't forget to take care of yourself.
Remember, you cannot pour from an empty glass. Make sure your needs are being fulfilled also before you devote your energy to your children and your relationship. Help each other learn to better monitor your level of energy daily and slow down when you are feeling the need to recuperate.
Need help navigating the change? Contact a relationship therapist to work with you and your family.